Join our Volunteer Program
Ever wished you could give something back to the underwater world, in return for all the enriching experiences it's provided since the moment you learned to dive? Our volunteer program is a great way to play an active role in coral reef restoration and join our community!

Who's Eligible?
At least 15 years old.
Scuba diving certified (PADI open water or equivalent).
How to Start
Email us at volunteering@reefrenewalbonaire.org with your name and how long you'll be on the island (if you're a visitor)
Reply to our weekly volunteer opportunity emails in order to secure a spot on our next coral restoration dive!
Volunteer Program FAQ's
How do I book my PADI Reef Renewal course?
Courses are booked directly through our partner dive shops. You can find a list of our partner dive operators currently offering the course at the bottom of the PADI Reef Renewal Distinctive specialty page. By clicking on each logo, you'll be directed to a contact form. Or, you can call or visit the dive shop to schedule!
Are tanks and dive gear included with each volunteer dive?
Tanks are included, gear is not! We will provide tanks for each volunteer dive, but you must bring your own gear.
I've done coral restoration work for another volunteer program somewhere else. Can I volunteer with you guys?
We're so glad you've restored the reefs in other parts of the world, and we can't wait to hear about your experience! You still need to complete our PADI Reef Renewal distinctive specialty here on Bonaire, through one of our partner dive shops. Coral restoration practices vary island to island and region to region, so we require all of our amazing volunteers to take the course specific to Bonaire's reefs.
I completed my PADI Reef Renewal distinctive specialty but I'm not getting volunteer emails.
Make sure you email volunteering@reefrenewalbonaire.org with your name and how long you'll be on Bonaire. We'll add you to our email list so you can hear what volunteer opportunities are available each week!
Can you help me with living accommodations and/or what are living costs on Bonaire?
Since we don't provide a full-time volunteer program, RRFB does NOT offer living accommodations.
How can I help without getting in the water?
If you're planning a trip to Bonaire, you can check out our Wishlist for tools we use on a daily basis that are vital for our work. Not only is shipping to Bonaire significantly expensive, but the process for materials to arrive can also take months. Keep up with us on Facebook, Instagram, and LinkedIn!
What can you expect from our volunteer program?
No full-time volunteer program
Schedule changes weekly
Half-day volunteer activities by boat or from shore
Reef Renewal volunteers play a pivotal role in helping our Foundation, especially when it comes to underwater fieldwork. Volunteer tasks encompass coral nursery maintenance, outplanting corals at restoration sites around Bonaire and Klein Bonaire, and much more! The availability of volunteering opportunities fluctuates, depending on the seasons and ongoing projects.
Sign-up for our volunteering opportunities is first-come, first-serve.
At the start of each week, if volunteering activities are planned, we email everyone in our active volunteer database with all opportunities for the week. Just reply to our email specifying which activities you would like to join, and we will secure your spot if there is one available. Keep in mind that spots tend to be limited for most of our volunteer activities.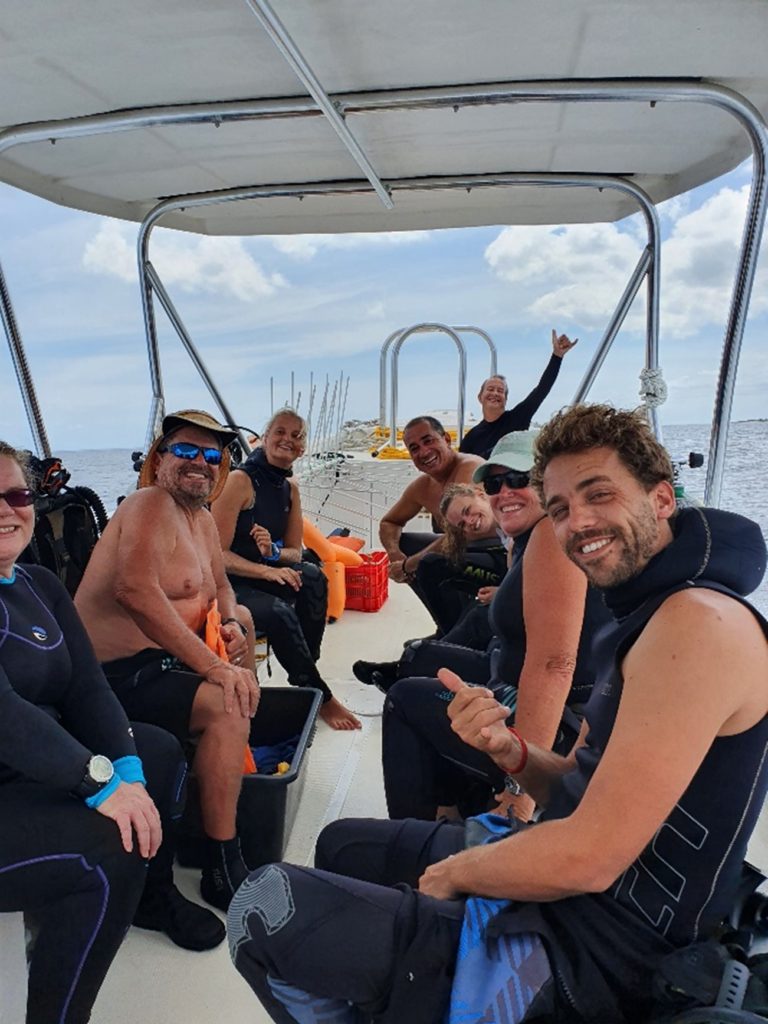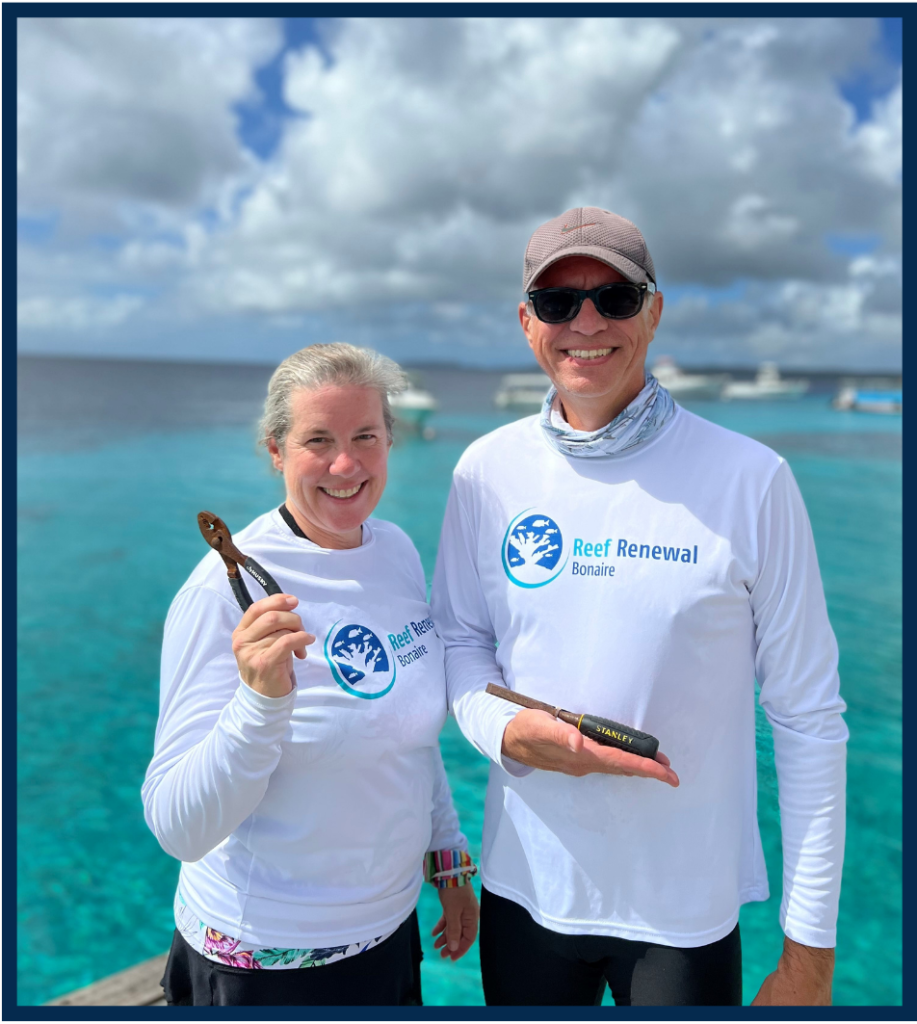 Volunteer Spotlight
Meet Dan & Alex
"We were just looking for volunteer opportunities and found out about Reef Renewal Bonaire online. We really enjoy spending time with the whole crew, hanging out with people who also enjoy doing what we're doing. It's the people that keep it interesting. Whenever anyone asks me where my favourite site for restoration dives is, I just say 'the last one'."
Favorite Dive site:
Knife (Alex), South Klein (Dan, if he has to choose)
Favorite tool:
Pliers (Alex), Stanley the chisel (Dan)
What's it like on a boat dive for coral reef volunteers?