We are Anne Top and Sander Heijnens, two students from Wageningen University and coral lovers. After having read all about corals in the books, we thought it was time to go into action and investigate more about it for our Master thesis. So here we are on Bonaire, for three months, doing an internship with the lovely people from Reef Renewal Foundation Bonaire (RRFB).
To Bonaire people it's no news that reefs have been declining over the years. As you might know, RRFB is making huge effort to stop this trend and to restore the population of endangered coral species. Since 2012 they have been growing and outplanting corals in specific degraded reef areas of Bonaire. You might have seen the thriving patches of outplanted staghorn corals at Jeff Davis' Memorial, Pink Beach, Tori's Reef, Buddy's Reef and Mi Dushi (Klein Bonaire). There is no question that the foundation is making a difference for the staghorn and elkhorn coral population, but it's important to know as well how the restoration effort is affecting the entire reef ecosystem and the other marine creatures living in it. That's where we come in.
The main goal of our research is to determine if there is a difference between the patches of nursery-reared staghorn corals that RRFB outplanted and the natural wild patches, using the degraded nearby reef areas (mostly sand and rubble) as control. As underwater survey method, we are using transect-line recording data and pictures over the patches.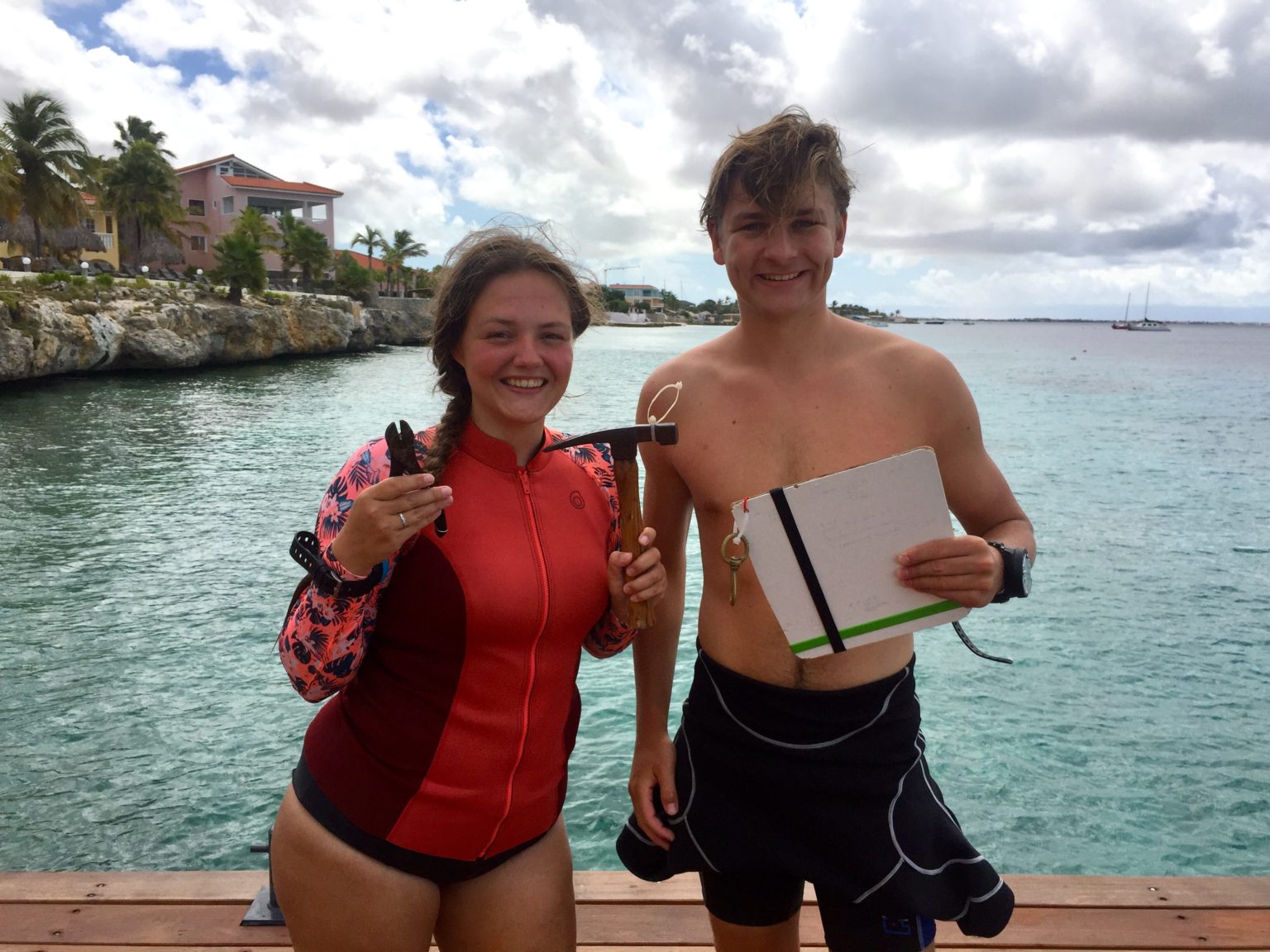 Anne takes pictures at every meter and counts coral recruits. In the meantime, Sander is counting all the fish and other marine creatures that swim over or hide in the corals along the transect. This way we can measure the fish biomass and biodiversity. Afterwards, we analyze the pictures and check how much of the photo is living coral, to determine the percentage of coral cover.
The goal is to compare the restoration site, with degraded reef areas and healthy natural patches to show how much the work done by Reef Renewal Foundation Bonaire makes a difference!
Anne Top and Sander Heijnens
Wageningen University