ReeFiesta 2023: A Celebration of Community and Coral Restoration in Bonaire
Reef Renewal Foundation Bonaire (RRFB) hosted its 5th annual ReeFiesta event on Thursday, June 1st, 2023 to celebrate World Reef Awareness Day, with support from official sponsors World Wildlife Fund, Ocean Oasis Beach Club, and Orco Bank. Over 150 community members and 13 local dive operators joined forces to dive, snorkel, and collectively celebrate Bonaire's reefs, at a time when coral restoration has never been more vital.
6 JUNE 2023
(Bonaire, Dutch Caribbean) On Thursday, June 1st, over 150 community members from around Bonaire gathered to show their support for coral restoration and celebrate World Reef Awareness Day. ReeFiesta provided a meaningful and tangible opportunity for both ocean enthusiasts, both new and old, to actively contribute to coral restoration efforts here on Bonaire.
The event kicked off with synchronized shore dives across 10 nursery sites and a guided snorkel tour, led by RRFB team members and experienced staff from 13 local dive operators. Participating divers worked diligently on 63 coral nursery trees, while snorkelers learned about RRFB's various restoration techniques visiting the nurseries and outplanting sites.
After an afternoon of underwater activities, the group came together on the beach at Buddy Dive Resort for a celebratory reception that included speeches, a gift raffle, and engaging trivia session centered around coral restoration. Thanks to dozens of prizes generously donated by local dive operators – including scuba courses, dive gear, and merchandise, the raffle was a fundraising success.
RRFB Chief Operating Officer Francesca Virdis opened the floor with an inaugural speech to welcome guests and recognize long-time RRFB volunteer Loretta Marshall. Monique van de Water, Senior Oceans Advisor for WWF Dutch Caribbean, and Ms. Abigail Paula, Interim Country Manager of Orco Bank N.V., took turns addressing the crowd as representing sponsors of ReeFiesta 2023.
The evening marked an important milestone for RRFB as structural changes were announced within the organization, notably the resignation of RRFB Founder and former President, Mr. Martin van der Valk. In recognition of his decade-long commitment and invaluable contributions to the organization, RRFB President David Fishman and Secretary Augusto Montbrun presented Mr. van der Valk with an honorary award.
ReeFiesta 2023 showcased the collective efforts of individuals and organizations committed to preserving Bonaire's reefs; the event welcomed over 80 newcomers and dozens of veteran Reef Renewal Foundation Bonaire supporters. RRFB extends its deepest appreciation to everyone involved, as their support and dedication play a crucial role in ensuring the future health and resilience of Bonaire's marine ecosystem.
This event was hosted by RRFB in collaboration with AB-Dive, Beyond the Corals, Buddy Dive Resort, DIVI Dive, Flamingo Diving, Harbour Village Resort, Technical Diving Services, Toucan Diving, Tropical Divers, VIP Diving, Wannadive, Xprodivers, and 4Wheel Diving. It was kindly made possible by official sponsors World Wildlife Fund, Ocean Oasis Beach Club, and Orco Bank N.V.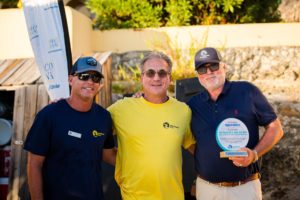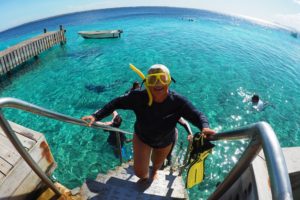 About Reef Renewal Foundation Bonaire
Reef Renewal Foundation Bonaire's (RRFB) mission is to help protect, replenish, and restore the biodiverse coral reefs of Bonaire. We focus on implementing innovative, science-based programs that expand and strengthen populations of keystone coral reef species. We do this so that the reefs of Bonaire can gain the necessary scale, genetic diversity, and resilience to thrive today and in the uncertain, ever-changing conditions of the future. Today, with the help of 13 partner diveshops around the island and a dedicated team of volunteers, Reef Renewal Foundation Bonaire has outplanted over 50,000 corals back to the reef.
To learn how to get involved or lend support, please visit www.reefrenewalbonaire.org or email info@reefrenewalbonaire.org.
Enjoy, be inspired, and please – get involved!