Reef Renewal Foundation Bonaire is excited to announce the installation of our newest pop-up nursery – Punt Vierkant. The Punt Vierkant nursery consists of 10 trees, for a total capacity of 1,000 corals, and is RRFB's first staghorn coral pop-up nursery.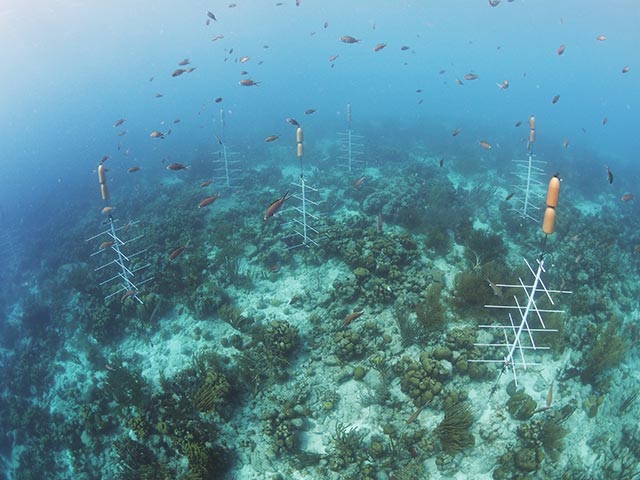 In February, RRFB and a team of volunteers installed the 10 trees at the site after carefully selecting the site based on its suitability for coral restoration. Before installation, each nursery and restoration site must be carefully selected to consider historical presence of the coral species, water quality, predators, bottom type, wave conditions, and human impact, among many other factors. Pop-up nurseries not only require an ideal nursery site but also a suitable restoration site because the corals in the nursery will be outplanted directly onto the reef on location.
After scouting the site and receiving approval from the Bonaire National Marine Park, RRFB then returned and placed temporary markers to denote the eventual location of the coral nursery trees. On land, staff and volunteers constructed the coral nursery trees that RRFB later transported to Punt Vierkant via boat. Installing the trees required a team of divers and snorkelers to work together to swim the trees from the boat to the nursery location; place the duck-bill tree anchors deep into the substrate using rebar, hammers, and a post-driver; and sink the buoyant trees to be secured to the anchors.
A few weeks later, the team returned to tag the trees and hang broodstock staghorn corals at the nursery. These corals are propagated through fragmentation and will eventually fill the entire nursery. To ensure genetic diversity among the corals to be outplanted at the restoration site, 10 genotypes are currently represented in the nursery.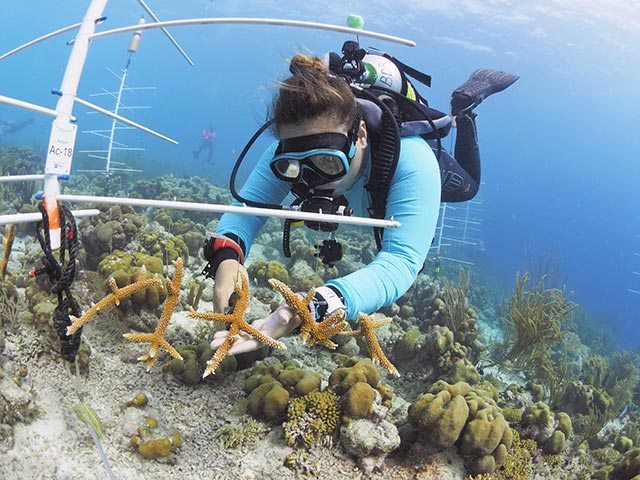 The pop-up nursery concept is one that RRFB has used for elkhorn corals, such as the Oil-Slick Leap and Knife nurseries and restoration sites. This allows RRFB to grow the corals on-site that we later outplant, giving the coral time to acclimate to local water conditions before they are outplanted and eliminating the need to transport the corals between sites. Being able to outplant the corals directly from the nursery also cuts down on the time, resources, and labor associated with outplanting by streamlining the process.
In 2-3 years, after thousands of corals have been outplanted to the shallow reef at Punt Vierkant, RRFB will remove the nursery trees and move them to the next site, leaving no trace of the nursey that had previously been there.
If you are diving at Punt Vierkant, feel free to take a look at our nurseries but please maintain a distance of at least 2 meters for the safety of you and the corals. Divers, snorkelers, fishermen, and others are kindly asked to report any observed anomaly that could jeopardize the project success to info@reefrenewalbonaire.org.